Autism Spectrum (ASD): Auditory Integration Training Success Story!
Contact Us
Complete On-line AIT Checklist
Testimonial written by the grandparent of a 6 year old boy, Ben, who was on the autism spectrum..
Reprinted by permission.
February 2009.
"His mood is good.
His emotional regulation and ability to handle disappointments is markedly increased.
We are all amazed."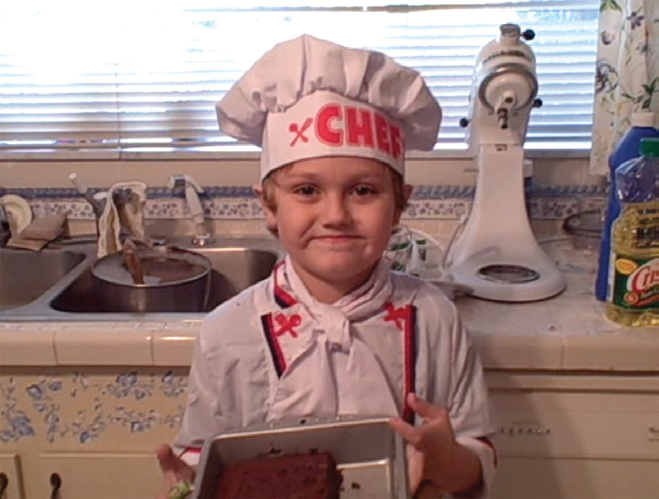 "Ben The Chef":

Ben The Chef: His story during and after AIT.

Ben's behavior has improved, he can listen to much longer periods of speech without pictures. I read him a 94 page book with minimal pictures! Update, I am now able to read him the Magic Tree House books! He is exhibiting spontaneous writing and sounding out words to spell them, he's more affectionate, has had long conversations with family members, is now not protesting other people eating or singing nearby, and is less sound sensitive...and all in eight days.

ASTONISHING positive changes from our point of view.

A few days later:

Just wanted to give you an update on Ben's AIT therapy.
He is like a new kid.

Last night he and his father stayed outside "camping" in a tent after having a small fire and roasting marshmallows and hot dogs.

His receptive language has increased about 1000%, he let me read him a 90 page book with minimal pictures instead of having to have a picture on each page and three sentences.

I took him to the playground two days ago and one of the other mothers commented on how polite he is.

His auditory sensitivities have decreased, his language is better, and the very high volume he used to used (very loud because he was trying to "tune in" and heard everybody else that way) is gone.

His mood is good. His emotional regulation and ability to handle disappointments is markedly increased. We are all amazed.
Your results, of course, may differ.
Benjamin had multiple insults to his auditory processing including the results of a placental abruption at 13 weeks which led to a velamentous umbilical cord and that meant that he couldn't move in the womb without cutting o his circulation.

There were multiple ultrasounds and the use of a baby doppler because of the anxiety around the pregnancy and the safety of mother and child.

Ben he had multiple ear infections after his varicella vaccine and we believe the virus affected his cranial nerves, including the auditory nerve.

We didn't suspect that until he came down with shingles on his cervical dermatome at age 4, along with atypical pneumonia, and his speech articulation improved after acyclovir.

I think it's priceless. It's like all of a sudden the child has grown up!
RECENT UPDATE:
Ben had a repeat audiogram with no difficulty with the uncomfortable loudness level, up to 110 dB, which was the maximum!